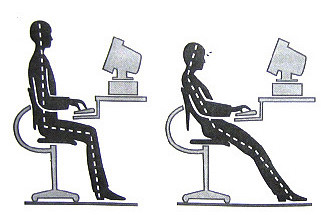 This month we're kicking off a series of posts about the benefits of chiropractic care, of which there are many. In this first one, we're going to talk about how chiropractic care can help improve posture.
Posture refers to how we stand or sit, and anyone who works a desk job is most likely aware of the importance of posture while working. Many things can lead to bad posture, including sitting, standing or working for long intervals over time in a position that does not support correct posture. Others include stress, carrying additional weight, pregnancy, weak muscles and high-heeled shoes. Not only is poor posture not good for you, but over time it can lead to increased pain.
Chiropractic care can improve posture by helping to realign the skeletal system. Not only that, but your chiropractor can suggest changes to your work station or other habitual activities to help correct your posture and get you back on track. These can include exercises, adjustments to furniture, etc.
Are you ready to learn more about how chiropractic care can improve your posture? Dr. Bruce Laird offers a very gentle chiropractic approach to his patients at his his office of chiropractic care and muscle therapy in Wenatchee, WA. Contact us today to make an appointment.